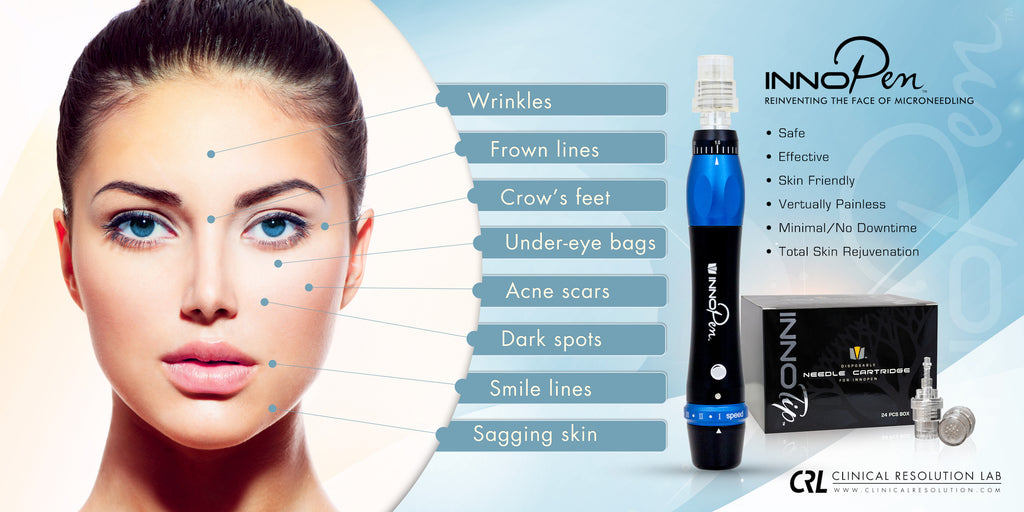 Microneedling (also known as Medical Needling or Collagen Induction Therapy) is a non-surgical and non-ablative procedure used to treat various skin conditions such as aging (wrinkles, stretching), scarring (acne, surgical), hyper-pigmentation, cellulite and hair loss.

Microneedling technology (i.e. automated pens, rollers, etc.) use very fine, sterile needles to puncture the skin and to create micro-channels deep into the skin in order to stimulate new collagen/elastin production. The resulting micro-channels also aid in infusing therapeutic serums, allowing for greater penetration and increasing overall efficacy of active ingredients. 
Boss Medical Ltd. is proud to represent and distribute microneedling devices and products LICENSED BY HEALTH CANADA, including:
InnoPen™ - Professional Automated Microneedling Device

InnoTip™ - Disposable Needle Cartridges for the InnoPen

MTS Roller™ - Microneedling Dermal Rollers

Needle Depths: 0.3mm | 0.5mm | 1.0mm | 2.0mm

Zensa Topical Anaesthetic Cream (5% Lidocaine)
PLEASE BE INFORMED. There are countless microneedling products (automated pens, dermal rollers, clinical solutions, etc.) available on the market that are NOT approved by Health Canada. You can search active licences on Health Canada's Official Website.
NOTE: Professional microneedling devices are only available to Canadian Skincare Professionals. Please LOGIN or CREATE AN ACCOUNT to access product information. 
Microneedling